2021 Bill Nelson Wants To Be NASA Administrator – 2017 Bill Nelson Says He's Not Qualified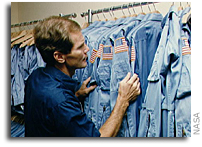 Keith's note: Rumors are starting to bubble up. Bill Nelson wants you to know that he really, really wants to be the next NASA Administrator. There is one small problem however: according to his own previously established criteria for who should – or should not – be NASA administrator, he is not qualified. Oh yes: former NASA Adminstrator Charlie Bolden agreed with Nelson's qualification criteria. Just sayin'

Keith's update: there was mention of this topic at the daily White House Press briefing:
Reporter: There are reports that Presiden Biden is considering former Florida Senator Bill Nelson to be the NASA Administrator. Are those reports accurate? Is he under consideration? And when do you expect an announcement?
Psaki: I do not have any personnel announcements for you or any expectation as to when we will have an announcement on a NASA administrator – or a list of potential people. But that is an interesting one.
Will Bill Nelson be the next NASA administrator? Twitter raises that possibility, Florida Today
"If Joe Biden is elected. I will give a recommendation of a handful of people that I would recommend to be the head of NASA, and my recommendation would not include myself," Nelson explained in August."
A politician who said politicians shouldn't run NASA wants to run NASA, Ars Technica
"In 2017, Nelson also led the opposition to Jim Bridenstine becoming administrator of NASA. Then serving as the ranking member on the Senate's Committee on Commerce, Science & Transportation, which oversees NASA, Nelson said Bridenstine was too partisan and political to lead NASA. He also accused Bridenstine of not having the expertise to do so."
What Qualified Bill Nelson To Be An Astronaut? Politics, earlier post (2017)
"Nelson overtly used his political position to force NASA to fly him on a space shuttle mission. His only professional qualification? He was a lawyer."
Bill Nelson: Do As I Say Not As I Do, earlier post (2017)
"The head of NASA ought to be a space professional, not a politician," Mr. Nelson, a Democrat, said in a statement on Friday."
Rubio, Nelson blast Trump's NASA pick, Politico (2017)
"The head of NASA ought to be a space professional, not a politician," Nelson said in a brief written statement to POLITICO."
Trump's nominee for NASA administrator comes under fire at Senate hearing, Washington Post (2017)
"The NASA administrator should be a consummate space professional who is technically and scientifically competent and a skilled executive," said Nelson, who wields great influence over the space agency, in his written opening statement. "More importantly, the administrator must be a leader who has the ability to unite scientists, engineers, commercial space interests, policymakers and the public on a shared vision for future space exploration."
Bolden Throws Bridenstine Some Shade, earlier post (2017)
"He would not have been my first choice because he's a politician. And he is the first person, to my knowledge, ever selected from political office to become the NASA administrator. I don't think it's healthy for the agency to have someone who's a partisan in that position. The position calls for somebody who can carry out the president's agenda to the best of his ability but do it in a nonpartisan way and be able to work across the aisle. And I think his history is such that he may find some difficulty in working across the aisle."