Hearing Today: NASA Authorization Act of 2013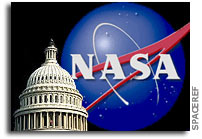 Subcommittee on Space Hearing – NASA Authorization Act of 2013
Hearing: NASA Authorization Act of 2013
Location: 2318 Rayburn House Office Building, Washington, DC 20515, US
Time: 10:00 a.m. ET
Witnesses and Statements
– Dr. Steven W. Squyres, Goldwin Smith Professor of Astronomy, Cornell University
"Three themes run through my testimony today:
– NASA needs a clear and compelling long-term goal. That goal should be to send human explorers to Mars.
– NASA is being asked to do too much with too little. Unless program content can be matched to budget, the result will be wasted effort and delay.
– Our nation's civil space program will be best served by having high-level policy set by the Administration and Congress, and implementation details recommended by NASA engineers, scientists, and managers."
– Mr. A. Thomas Young, Former Executive Vice President, Lockheed Martin Corporation
"The dominant strategic issue facing the civil space program is human spaceflight. Today, there is a human spaceflight program but no credible human space exploration strategy. There is much discussion about going to the moon, an asteroid, Phobos, Deimos and Mars; however, there is no credible plan or budget. There are human exploration elements such as SLS and Orion."
Space Subcommittee Chairman Steven Palazzo (R-Miss.)
– Prepared Statement by Rep. Palazzo: The NASA Authorization Act of 2013
"The draft bill includes a topline budget of over $16.8 billion dollars and authorizes the agency for two years."
"The Space Launch System is authorized at over $1.77 billion and the Orion crew capsule at $1.2 billion. The SLS and Orion will take our astronauts deeper into space than ever before. I am committed to the success of these assets and ensuring their continued on-time development and appropriate prioritization moving forward. The Commercial Crew program is authorized at $700 million, but let me be clear; this is not a blank check for the Administration. The bill includes several accountability measures and a flight readiness deadline of December 31, 2017. This deadline is not negotiable. NASA must do whatever is necessary in its acquisition model to meet this deadline, even if that means radically altering their current plans."
"Another request in the President's budget was an Asteroid Retrieval Mission or ARM. While the committee supports the Administration's efforts to study Near Earth Objects, this proposal lacks in details, a justification or support from the NASA own advisory bodies. Because the mission appears to be a costly and complex distraction, this bill prohibits NASA from doing any work on the project and we will work with appropriators to ensure the agency complies with this directive."
– Prepared Statement by Rep. Edwards: The NASA Authorization Act of 2013
– Prepared Statement by Rep. Eddie Bernice Johnson: The NASA Authorization Act of 2013
Testimony sound bites via Twitter:
– Rep. Johnson: this is a flawed bill and not ready for markup and would be DOA in the Senate. #NASA
– Squyres reiterates that it's not a matter of when SLS makes first flight, but what is the flight rate. "Deeply concerned about flight rate."
– Young: don't believe landing on the Moon is a prerequisite to going to Mars, and would consume resources, although it has other benefits.
– Brooks is reading an email he received from former NASA administrator Mike Griffin, saying that $1.45B auth for FY14 in bill is inadequate.
– Squyres: the administration's proposed reorganization of STEM education is "deeply misguided."
– Squyres "I have not heard #NASA make the case to connect asteroid mission with sending humans to Mars" #NASA
– Rohrabacher: Griffin statement that $1.8 b (not $1.4b) needed for SLS is a warning sign that it will cost a lot more – the "SLS Titanic"
– Squyres – some kind of heavy lift capability is needed for Mars. #NASA being asked to do too much with too little $
– Squyres: We can afford to use ISS. We can afford SLS on reasonable schedule. But we can't afford both. Budget mismatch.
– Tom Young: with the current budget we'd never get to Mars. #NASA
– Skyres: I haven't seen the level of detailed oversight (by OMB) before.