Today's Senate Hearing on Space Policy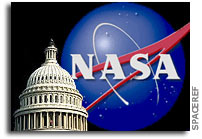 Keith's note: The witnesses for todays's hearing: Holdren, Bolden, Armstrong, Cernan, and Augustine. ESMD AA Doug Cooke briefed Armstrong and Cernan last week via telecon on the results of NASA's internal exploration working group studies in advance of today's Senate hearing.


Keith's update: Prepared statements: Charles Bolden, John Holdren, Neil Armstrong, Gene Cernan, Norm Augustine


Keith's update: Gene Cernan testified that he had a telecon last week with Bolden and that Bolden said that he was determined to do whatever was required to make the commerical space portion of the new policy successful and that commercial space may need a "bailout like GM/Chrysler" and that it "may be the largest bailout in history".
I find it rather astonishing that Mr. Bolden would say such a thing and then not recall saying it. Either he was freelancing (something that OSTP has had issues with in the past) or he was repeating something that the White House had told him. If indeed the White House has discussed this possibility and assured Bolden that he'd have their backing, then Bolden is all but admitting that he and the Administration are embarking upon a commercial strategy with substantial pitfalls (i.e. Chrysler/GM bailouts of $15-17 billion). Moreover, these pitfalls have, up until this moment, not been divulged in public or (apparently) to Congress.
But wait — the "largest bailout in history" was AIG – and that was for $180 billion. Is Bolden really suggesting that this is what all of this could cost? I am also confused as to what he means by "bail out" since GM and Chrysler have to pay this money back. Is Bolden suggesting that these companies would pay this money back?
From a staff perspective, someone on Bolden's staff should have flagged this comment of Bolden's when he made it and made certain that he was (at a minimum) prepared to respond and explain – and not be caught off guard in the manner that he was.