Space Policy Debate in Washington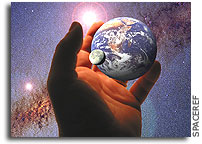 Debating Space: A Tale of Two Policies – One Real, One TBD, Keith Cowing
"A day after the last of the Presidential campaign debates, a hundred or so space professionals gathered this morning in Washington, DC to hear a debate between representatives of the Bush and Kerry campaigns on space policy. One campaign talked about what it was doing in space – the other talked about what it might do."
18 October 2004: The great (well, ok) space debate, Jeff Foust (Futron Corp.) The Space Review
"Exploration is exciting, but it isn't the only thing we get from space," Garver said. "Sending a few people to Mars maybe isn't the most inspirational thing that we can be doing."

Editor's note: Once again Lori Garver chokes when it comes to making a strong statement rearding the exploration of space – beyond Earth – by humans. Or is this John Kerry speaking – or echos of the Clinton Administration? Hard to tell.
15 October 2004: Bush, Kerry Campaign Reps Debate Space Issues, Aerospace Daily & Defense Report
18 October 2004: Space can wait until after Nov. 2, Houston Chronicle
"Space should not be politicized, and we're trying to remind people that space is not the domain of one party," [George Whitesides, executive director of the National Space Society] said. " … We're all keeping our fingers crossed that no matter who gets elected, NASA is going back out there and exploring the universe."

Editor's note:This is a rather naive position to take. Space has been politicized since Day One, George. Indeed, we only have a space program because of politics. Wake up and read some history.