Wake The Kids: CASIS Has A New Logo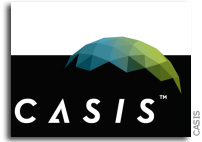 CASIS Unveils New Logo Part of Aggressive Plan to Expand Research Partners
"CASIS is determined to facilitate the development of ground-breaking products and technologies on the ISS for the benefit of people on Earth," said CASIS Interim Executive Director Jim Royston. "Our new logo captures our spirit and mission, and serves as a message to the marketplace that CASIS is a strong partner helping business and researchers harness the power of microgravity and the ISS U.S. National Lab."

Keith's note: This is bordering on the absurd. CASIS continues to drop the ball on all of the tasks it is supposed to be doing so as to further the utilization of the International Space Station and now they think that a new logo will "serve as a message to the marketplace"? Newsflash: actions speak louder than logos, CASIS.

Personally, I think the logo looks like something you'd see on an Adobe software package (same font). If this logo is supposed to show the industry that CASIS is serious about space, they certainly picked the wrong logo to do so. What this logo has to do with evoking an image of utilizing the ISS escapes me.
Maybe they were thinking of this movie space ship and its domes when they came up with this logo. The movie title certainly describes how CASIS has conducted itself since last year.