NASA Authorization Act Conference Report Update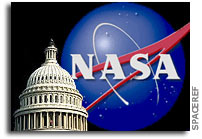 House Passes NASA Authorization Bill, House Science Committee
NASA Authorization Act Conference Report Approved by the House, Rep. Calvert
"Today, the House approved the Conference Report for S. 1281, the National Aeronautics and Space Administration (NASA) Authorization Act by a unanimous voice vote."

Editor's update: The House began discussion at 5:41 pm EST. They then adopted the Conference Report at 6:25 pm EST.

Editor's revised note: Sen. Jim Talent (R-MO) put a hold on the NASA Authorization Conference bill Friday afternoon because he feels that NASA is not spending funds on X-43C as it had previously agreed to do in FY 2005. This was an issue raised by Sen. Talent during the FY 2006 NASA appropriations conference effort earlier this year – and he is using his hold on this authorization bill as an opportunity to reiterate that concern. In reality, the hold Talent has dropped on this authorization bill actually has nothing at all to do with the intent or function of this bill. Rather, Talent is using this approach to try and force NASA to fund the X-43C with $17 million of the $25 million provided in the Appropriations bill.
This authorization bill does not call out spending on the X-43C. Rather, it does address funding for "hypersonic research". Since X-43C is not specifically called out, and the Appropriations bill spelled out its direction as to how funds should be allocated, NASA's interpretation has been that it now has direction as to how it should spend its hypersonic research funds – and it has proceeded to do so.
Talent's effort may cause a delay in obtaining unanimous consent in the Senate and, according to Senate sources there are other means to deal with this bill. If need be, the Senate will take up the matter after the holidays- and pass it, as written – and agreed to by the House.
Congress to Pass NASA Authorization Bill – Congress Correctly Reasserts Its Oversight Role, IFPTE
"Approving IFPTE's number-one priority, authorizers demanded a thoughtful reevaluation and vetting of NASA's workforce issues by ensuring that the agency cannot effect any Reduction-In-Force prior to March 16, 2007. Authorizers further stipulated that NASA must first submit a detailed plan and consult with its unions and with Congress prior to implementing any workforce reshaping."
NASA Authorization Act of 2005: Conference Report (Final)
NASA Authorization Act of 2005: Joint Explanatory Statement of the Committee of Conference
Conference Agreement Reached on NASA Authorization Bill, House Science Committee
"The House and Senate had passed differing versions of the bills (H.R. 3070/S.1281) this summer and fall. Senator Kay Bailey Hutchison (R-TX) chaired the conference Committee, which approved the agreement today. The conference report will be filed Friday morning and passage is expected in both bodies on Friday and Saturday. The President is expected to sign the bill."
Science Dems Support NASA Authorization Conference Agreement – Report Ready for Floor Action
"I am particularly pleased that the bill retains the Reductions In Force moratorium that was included in both the House and Senate bills, and that the effective date of March 16, 2007 is closer to the date in the Senate bill than the date in the House bill," remarked Rep. Honda."So much is changing within NASA at the moment, with proposals to terminate programs being reversed and the revived programs becoming centerpieces of a reshaped agenda, that it is important that NASA not react too quickly to terminate employees before it really knows if it needs them or not."
House-Senate Conference Committee to Consider NASA Authorization Today
"A House-Senate Conference Committee will convene at 2:30 p.m. TODAY in Room SC-4 of the Capitol to consider the Conference Report for S. 1281, the National Aeronautics and Space Administration Act of 2005."