Russian Scientists Claim That Algae Lives On ISS Exterior (Update)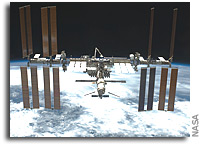 Sea creatures are discovered living on the exterior of the ISS, Daily Mail
"Traces of plankton and other microorganisms have been found living on the exterior of the International Space Station (ISS), according to Russian space officials. They claim the plankton were not carried there at launch – but are thought to have been blown there by air currents on Earth. Incredibly, the tiny organisms were found to be able to survive in the vacuum of space despite the freezing temperatures, lack of oxygen and cosmic radiation. The discovery was made during a routine spacewalk by Russian cosmonauts Olek Artemyev and Alexander Skvortsov, who were launching nanosatellites into space.
They used wipes to polish the surface of windows – also known as illuminators – on the Russian segment of the ISS and later found the presence of plankton and other microorganisms using 'high-precision equipment'.

Keith's note: I'm certain that were I to ask CASIS or the ISS National Laboratory folks for a peer-reviewed publication for these results that they'd be more than happy to comply, right? And if this news story is not true, I should expect an equally swift statement to that effect, right? Astrobiologists ought to be jumping up and down about this – if it is true, that is.
NASA, Russia Squabble Over International Space Station Sea Plankton Claim, Forbes
"As far as we're concerned, we haven't heard any official reports from our Roscosmos (Russia's space agency) colleagues that they've found sea plankton," NASA spokesman Dan Huot told Space.com. "What they're actually looking for is residues that can build up on the visually sensitive elements, like windows, as well as just the hull of the ship itself that will build up whenever they do thruster firings for things like re-boosts. That's what they were taking samples for. I don't know where all the sea plankton talk is coming from."