Wings In Orbit – Great Book – If You Can Find It (but not online) UPDATE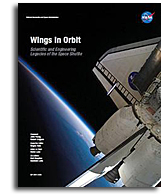 Wings In Orbit: An Inside Look at the Shuttle, Aviation Week
"Published by the Johnson Space Center and the Government Printing Office, Wings In Orbit is scheduled for an April 8 release through major book stores, including Amazon.com and Barnes & Noble, as well as at http://www.shopNASA.com."


Keith's 26 April note: This book is finally online. No one at PAO bothered to tell me despite repeated email inquiries and a FOIA request. Instead, a NASA Watch reader came across this link. As such, one would expect that PAO will not tell anyone about this link – and no one will know about it since you still cannot actually buy physical copies of this book. Another chance to inform/serve the public is going to be wasted.
The NASA Shuttle Book No One Will Ever See (Updated), December 2010, earlier post
I asked NASA PAO "Can you send me a PDF of the book?" Michael Curry replied: "It is in final editing and review. It is not copyright protected except for those parts where the authors got permissions to reproduce. It will be available on the NASA web site as a 508 compliant (html) and PDF at the same time as the book release, probably in March."
"Can I get the original publication art such that I can republish this book?" Curry: "We are asking and will let you know ASAP."


Keith's 16 March note: Well, it is March, 4 months later, and NASA never got back to me about the publication art. "ASAP" seems to have a different meaning at NASA. This government-developed book is (was) for sale on Amazon.com – which now says "Price: $70.00 – Temporarily out of stock." But you can buy copies from associated retailers via Amazon.com. GPO sells it too. Borders and Barnes and Noble do not seem to be offering it for sale – yet. Despite claims to me from NASA PAO that the book would be put online for download when it goes on sale (Amazon and GPO have it for sale) it is not online at NASA.gov. I have no doubt that Wayne Hale et al did a splendid job on the book. Indeed, I would like to read it online – just as NASA told me that I would be able to do – and not have to pay $70.


Keith's 18 April note: Well, it has been five months. Same complaint as above – no response (yet) from NASA to my request. No one has it for sale or in stock online – and GPO says that it is "Being Reprinted (Priced, No Stock Available in Warehouse or Retail)". Looks like this plan to have someone print it flopped big time.
So … I filed a FOIA request asking for a PDF version of the book since, by definition, it already exists — even if NASA PAO has refused to provide it in response to my earlier request.


Keith's 20 April note: The response I got from PAO today was "Keith, they still are working to make the PDF 508 compliant. I will check the status and let you know. I also will check on the graphics, some of which I'm told are releasable but others will require approval from the original source. Sorry this has taken so long."
It takes 5 months to make it 508 compliant? Seriously FIVE MONTHS? There are software packages that can strip a PDF and do more than 90% of the work in a matter of minutes … most people in the government build docs from the onset that are 508 complaint – ultra simple to do. I have put a NASA document together recently (2004) and most professionals get image use (electronic/print) releases signed in advance and/or use public domain documents. Baffling.
At this rate this will truly be a "history" book since the shuttle fleet will be mothballed by the time anyone actually gets a chance to read it.