December 2011 Issue of Space Quarterly Magazine Available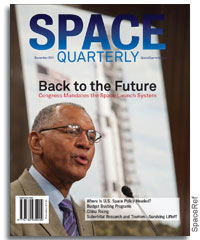 December 2011, Volume 1, Number 2, U.S. Edition, Space Quarterly
(Preview the cover)
The latest edition of Space Quarterly is available! In this issue we're focusing primarily on space policy and the Space Launch System with a few budget and commercial pieces in between.
U.S. Space Policy is examined by well known space policy analyst Marcia Smith who delves into the nuances and politics of current policy. We also get an update on Japan's space policy, insight into India's burgeoning space program and analysis of China's mindset.
The Space Launch System is NASA's next big program. Mandated by Congress, ignored and then reluctantly given the green light by the White House, Eric Sterner provides political context on the program. Dennis Wingo then provides technical context on the Space Launch System, comparing it to the Saturn V, and analyzing design and mission requirements.
We would be remiss if we didn't cover the commercial space sector so we get a Commercial Orbital Transportation Services (COTS) update along with a comparison of Boeings CST to the SpaceX Dragon capsule being developed for the Commercial Crew Development program.
Jobs are an important issue so we also look at the Space Coast after the Shuttle and its impact and prospects.
We're also starting a new feature in this issue, Future Space. Each issue we'll look into what may seem like a far future concept but could develop sooner. In this issue we get a report from DARPA's 100 year Starship Conference.
FREE ARTICLES
Each issue we pick two articles per edition to provide our readers and make them available on the new SpaceRef Forum. You'll have to create an account (free) to comment on the stories. In this issue they are:
— Where is U.S. Space Policy Headed? By Marcia Smith
— Crunch Time for COTS by Jeff Foust
U.S. Edition Table of Content
– Leaders: An Interview with Joe Fuller, CEO of Futron
– Crunch Time for COTS
– The Future of the Space Coast
– Boeing and SpaceX – Efforts to Forge Commercial Crew Transports
– Where is U.S. Space Policy Headed?
– Congress, the White House and Consensus: A Giant Leap Too Far
– Duelling Elephants: Webb Space Telescope and the Space Launch System
– Belated Boom: Suborbital Research and Tourism – Surviving Liftoff
– The Space Launch System and its Controversial Role in Exploration
– A Battle Looms for Control of Japan's Space Program
– China Rising – Peaceful Development of a Responsible Stakeholder
– India's Space Program Matures
– The 100 Year Starship Project: It Takes a Planet
Canadian Edition Table of Content
– Leaders: An Interview with Joe Fuller, CEO of Futron
– Canadian Briefs – Looking Beyond Stimulus Funding
– NEOSSat – The Micro-Surveillance Satellite
– COM DEV Implements ExactEarth
– Moon, Mars or Bust, Canada's Space Sector at a Crossroads
– Duelling Elephants: Webb Space Telescope and the Space Launch System
– Inspiring the Next Generation of Space Explorers
– Belated Boom: Suborbital Research and Tourism – Surviving Liftoff
– Canada's Fledgling Rover Program is Facing a Rocky Future
– Where is U.S. Space Policy Headed?
– China Rising – Peaceful Development of a Responsible Stakeholder
– India's Space Program Matures
– The 100 Year Starship Project: It Takes a Planet