The NPOESS "Headache" Just Got Worse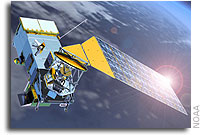 NASA OIG: NASA's Management of the NPOESS Preparatory Project
"NASA Inspector General Paul Martin today released a report that found NASA has incurred approximately $304 million in additional costs for an important meteorological satellite due to failures by the National Oceanic and Atmospheric Administration (NOAA) and the Air Force to deliver instruments and other critical components to NASA in a timely manner. As a result, the project has experienced a 5-year launch delay and cost increases of 54 percent. Moreover, failure to launch the satellite as scheduled in October 2011 will cost NASA an additional $35 million."
PCAST Meeting Featured Bolden, Earlier post
Bolden also refered to NPOESS as "one of my nightmares" and that it is "also one of John Holdren's nightmares" and "we won't talk about that unless you really want to.".