Some Odds and Ends Space Legislative Language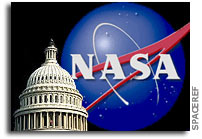 Keith's note: ICYMI: the text of Rep. Beyer's NASA Enhanced Use Leasing Act of 2022 is included at the very end of the just-released omnibus bill, in a separate section for odds and ends ("Division HH – Other Matters"). The relevant text begins on page 2732. The omnibus is on the House floor today and expected to be passed by the Senate and on the President's desk not later than next week.
"SEC. 3. EXTENSION OF AUTHORITY TO ENTER INTO LEASES OF NON-EXCESS PROPERTY OF THE NATIONAL AERONAUTICS AND SPACE ADMINISTRATION.
Section 20145(g) of title 51, United States Code, is amended by striking "December 31, 2021" and inserting "December 31, 2022".