Apollo 1 Memorial To Be Placed at Arlington National Cemetery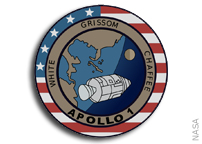 Keith's note: Last week President Trump signed the H.R.2810 – National Defense Authorization Act for Fiscal Year 2018 into law. Included in this legislation is a provision that calls for a memorial to the crew of Apollo 1 at Arlington National Cemetery:
"SEC. 1087. CONSTRUCTION OF MEMORIAL TO THE CREW OF THE APOLLO I LAUNCH TEST ACCIDENT AT ARLINGTON NATIONAL CEMETERY.
Subject to applicable requirements of section 2409(b)(2)(E) of title 38, United States Code, the Secretary of the Army, in consultation with the Administrator of the National Aeronautics and Space Administration, the Commission of Fine Arts, and the Advisory Committee on Arlington National Cemetery, shall authorize the construction, at an appropriate place in Arlington National Cemetery, Virginia, of a memorial marker honoring the three members of the crew of the Apollo I who died during a launch rehearsal test on January 27, 1967, in Cape Canaveral, Florida. The memorial may not be constructed in a location that is otherwise suitable as an interment site."
An effort to get this memorial established has been underway for a number of years here in the Washington, DC aerospace community led by primarily folks at the Aerospace Industries Association with the assistance of the Challenger Center for Space Science Education. Exactly what the memorial will look like or where it will be placed has not been decided but the preference of the space community in Washington is to put the Apollo 1 memorial next to the memorials for the crews of Columbia and Challenger with a marker of a similar size and design. There will likely be a public fundraising effort for this memorial. Details to follow.