NASA CIO: How About Some Substance In Your Blog?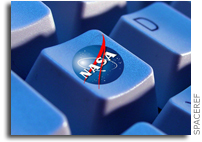 NASA CIO Blog – The Bossy CIO, Linda Cureton
"Everyone is asking me about the latest reorganization in NASA. In particular, the Center CIOs now report to me. They ask, so it must be great that all the Center CIOs all belong to you. The reality is that there's not much truth to that. The reality is that I now belong to all of THEM."


Keith's note: How cute. Instead of all of the personal philosophy, folksy stories, and other extraneous stuff posted on this NASA.gov blog by NASA's CIO, perhaps she can start posting detailed progress reports, future plans, budgets, white papers etc. that will inform the NASA workforce and taxpayers what she plans to do to make the agency's IT technology what it needs to be. And where is NASA's social media policy? You'd think with all of the blog posting and Twittering by the CIO that she'd see some urgency in establishing guidelines such that the remainder of NASA's civil servant and contractor workforce knows what they can and cannot do – and how to do it.