How To Spread Great News at NASA: Send The Media Somewhere Else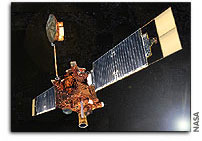 NASA Schedules Briefing to Announce Significant Find on Mars
"NASA hosts a news briefing at 1 p.m. EST, Wednesday, Dec. 6, to present new science results from the Mars Global Surveyor. The briefing will take place in the NASA Headquarters auditorium located at 300 E Street, S.W. in Washington and carried live on NASA Television and www.nasa.gov."

Editor's note: You really have to wonder if anyone is really in the driver's seat at NASA HQ PAO. They wait until the press corps that covers NASA is either at KSC waiting for a shuttle launch – or in Houston at a major exploration conference that the agency is strongly suporting – and only THEN does PAO plan a major announcement about Mars – at NASA HQ – one that many of us cannot cover. Did NASA's Mars scientists *just* make this discovery the other day? I doubt it. Has NASA been sitting on this for a while? More likely. Or has the news started to dribble out (once again) and NASA finds itself playing catch up?

Editor's update: Apparently some reporters were given access to embargoed information from the participants and NASA JPL while others were not. So much for providing equal access to all media. NASA is playing favorites once again.
At one point the paper was posted on this unpublicized link (now inactive) for some reporters to see – but not others: http://www.msss.com/others/edgett/dec2006/science_paper/index.html
The Daily Mail has managed to get a picture associated with this announcement.