Is This NASA's Last Chance To Be Relevant?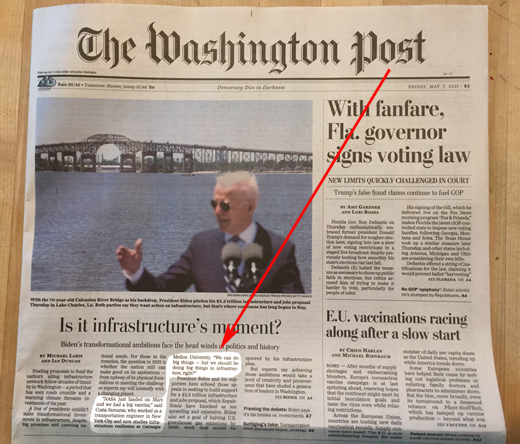 In Biden's infrastructure moonshot, a big question: Can the nation still achieve its highest ambitions?, Washington Post
"NASA just landed on Mars and we had a big vaccine," said Costa Samaras, who worked as a transportation engineer in New York City and now studies infrastructure resilience at Carnegie Mellon University. "We can do big things — but we should be doing big things in infrastructure, right?"

Keith's note: There it is. Washington Post – the main newspaper read in the nation's capital. Big color picture – front page, above the fold, third paragraph. If no one reads the rest of the story they see NASA mentioned by a regular citizen in terms of great things that America does. This echoes the frequent mention of NASA by President Biden and Vice President Harris as well as his choice of the phrase "Cancer Moonshot" to represent an effort he led as vice president to fight cancer. Joe Biden thinks about NASA a lot it would seem.
Biden thinks about reinvigorating the nation after the pandemic and not an hour goes by without official use of the word "infrastructure". His administration talks about a  "whole of government" approach to solving the issues facing America. NASA is just another Federal agency – one that is supposedly going to be part of this whole #BuildBackBetter thing that we hear Team Biden talk about.
NASA trips over itself with giggling enthusiasm every time NASA and space get mentioned by this White House – especially when the Oval Office Moon rock gets a photo op. That's natural and it feels good to see NASA get some face time at the White House – especially when the previous Administration used NASA as a cheap prop in a never-ending political campaign circus. 
However, what NASA does not do after it gets some love from Team Biden is show that it is part of a whole of government approach – not just to post-pandemic issues and #BuildBackBetter. NASA has a bad history of shunning external, shoulder-to-shoulder, cross-government efforts. It just wants the money to do the space thing – and see ya'. 
NASA could follow up these social and broadcast moments by having a developing effort in place that show just how NASA is or will be involved in #BuildBackBetter and its cousin #ScienceIsBack. There should be talking points that point out what NASA does alone or with other entities to get things rolling again:
Aeronautics – NASA is a go-to agency for aircraft design, safety, fuel efficiency, and overall air system health. It is the only top level agency with the word "aeronautics" in its name. With the airline industry suffering now more than ever it needs to work smarter. And the infrastructure that tracks aircraft will be called on more than ever to perform flawlessly. Add in drones for delivery and remote sensing and the skies will need as much smart thinking as they can get. NASA does those things. It even flies helicopters on another planet.
Earth Science – NASA is now a member of the Climate Task Force and is one of the world's leading developers and operators of satellites that monitor weather (which can damage infrastructure); Climate change (which needs to be characterized so as to modify infrastructure); and land use and agriculture (the underpinnings of our economy).
Information Science – NASA operates some of the largest supercomputers on Earth. They are often used to tackle problems related to climate and aeronautics but also issues beyond NASA's usual portfolio. Satellite communications and embedded computing can make existing and rebuilt infrastructure more efficient than it has ever been.
Space Technology – NASA not only covers every aspect of how we use space to conduct our daily lives. Indeed,  NASA invented much of that technology. You should know all of the talking points by now – from weather forecasting to communications.
Commercial Space – by embracing the use of the private sector to do things that were once only the responsibility of government, NASA has helped to spawn whole new industries to build, launch, operate, and benefit from space technology. Seed money used by NASA has now been amplified well beyond the specific services that were sought. ANd this has only shown signs of accelerating. This growing sector pushes the need for infrastructure and a  skilled workforce. 
Science – this Administration has an unabashed love affair with all things science. NASA is probably one of the few government agencies that has a hand in every conceivable aspect of science – both basic and applied. Its investments and results have led and will continue to lead to innumerable advances – and nothing works better than an infrastructure that is better than the one it is replacing.
And so on and so on. You know the drill. But NASA is not promoting any of this now. It is sitting on its hands hoping that they get a little love note from the white House once a week and some nice presents under the tree in the FY 23 budget pass back.
But there is one thing that is often neglected since NASA people seem to assume that everyone already gets it and that they can just sit back now and wait for a nice fat budget from Congress: Inspiration.
Inspiration – this is an intangible. It is not written down anywhere, It is not in a charter, not in a strategic plan, not on an action item list. But it is as real as anything else and often vastly more pervasive and influential than the specifics of what NASA does. Often times, as was quoted in the Washington Post today, when someone wants to express a place – a mindset – a team – an idea – a meme – wherein everything our nation does comes together in a spectacular way – a way that no one else can do – even if they lack all of the specifics – they always seem to cite NASA. NASA has a grasp on our collective imagination and a global branding reach that is beyond what NASA itself seems to understand. 
And yet NASA wastes that "reach" every single day. Its public affairs, education, and outreach infrastructure are badly managed, duplicative, incapable of adequately sharing NASA's good news, and often grossly out of step with the real world. Moreover, NASA does not have a strategic plan – one written so that actual humans can understand it. As such when you ask NASA what it does and why it does it, well, NASA really drops the ball here – at the precise place where the agency's value could be sold in a "value proposition" to someone.
NASA's ability to explain itself is ill-equipped to meet the challenge that the White House is issuing to the whole of government. It is time for NASA to get off its ass, fix what is broken, and use this utterly unique gift of innovation, exploration and inspiration to its fullest potential. Not just to fund space things – but to help show everyone in America – and also around the world – that there is a way out of this collective funk and that nothing is impossible, as our President keeps saying, and that NASA is part of the best that our nation has to offer.
If NASA does not take full advantage of this golden opportunity to reinvent itself so as to become relevant again I fear that it may never get another chance.