AIAA And NASA Limit Access To News Events (Update)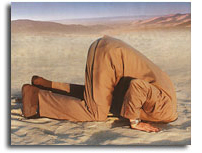 Keith's 25 April further update: A recording of Monday's Members-only AIAA telecon with NASA HEOMD AA Doug Loverro is now available for viewing here.

Keith's 21 April further update: While NASA PAO was ignoring my requests, AIAA was emailing Doug Loverro's around to hundreds of people. Note that the AIAA guys says "We thank NASA for permitting the public distribution of this information".
From: Steve Sidorek
Sent: Tuesday, April 21, 2020 1:17 PM
Subject: [EXTERNAL] Doug Loverro Webinar Slides
Greetings,
The slide deck that Doug Loverro presented during yesterday's webinar is attached. We thank NASA for permitting the public distribution of this information.
Regards,
Steve Sidorek
Director, Public Policy and Government Relations
Here are the slides: LOVERRO_LEO-Commercialization_AIAA.pdf

Keith's 21 April update: I have made several requests to NASA PAO for a copy of the presentation made by Doug Loverro. PAO has not replied to my requests. So I filed a FOIA request for the document. NASAWatch is not the only space news publication who was not offered access to this event. If this is how NASA PAO plans to roll out its new human exploration plans i.e. limiting access to the usual suspects inside the echo chamber – then its going to fall flat and not get the wider dissemination that it would otherwise get – and will so urgently need.
Soon, people are going to start wondering why we need to do all of this expensive space stuff when tens of millions of people are suddenly out of work. If this tone deaf approach is how NASA is going to explain itself then it is going to have a hard time justifying all the money headed its way. Just sayin'.

Keith's 20 April note: NASA gave exclusive access to the HEOMD AA today on a webinar run by AIAA that was only offered "exclusively to AIAA members". In other words you have to pay a fee for access. AIAA then hand-picked news media representatives to participate – but denied access to others. NASA PAO has not responded to my request for copies of the charts presented or any recordings made of the event. If NASA PAO is going to put senior officials up for public interactions where policy matters are discussed/unveiled then it behooves PAO to at least try to make certain that space media has equal access to these civil servants as they provide briefings in an official capacity. Blurry screengrabs of Powerpoint charts posted on Twitter just don't cut it.
Here's Marcia Smith's summary of the event:
NASA Reorganizing To Sharpen LEO Commercialization Efforts, MacDonald to Oversee CASIS, SpacePolicy Online
"NASA is reorganizing its human spaceflight office to sharpen its efforts at commercializing low Earth orbit (LEO). NASA's goal is to become only one of many customers using the International Space Station (ISS) and future LEO space facilities. The agency is moving out quickly to respond to a highly critical review of how non-NASA research is managed on the ISS, but acknowledges that it has work to do in convincing Congress that it has a viable plan. Doug Loverro, Associate Administrator for NASA's Human Exploration and Operations Mission Directorate (HEOMD), spelled out NASA's goals and plans for LEO commercialization in a webinar for the American Institute of Aeronautics and Astronautics (AIAA) today."